Banff Alpine Racers & The Bow Valley Ski Club: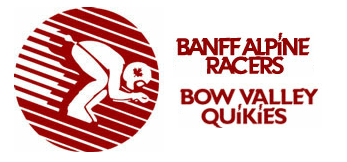 The Banff Quikies Ski Club was formed in 1978 to provide basic ski instruction for children in the Banff area. The Banff Alpine Racers Ski Club was formed shortly thereafter to create a competitive skiing program for graduates of the Quikies program. In 1992, the Banff Quikies Ski Club was renamed the Bow Valley Quikies Ski Club to more accurately reflect the home base of the membership. Hundreds of children have been involved over the past two decades and the program has produced a number of skiers who have been successful at national and international levels. Most importantly, the children involved in the program have made new friends, improved their skiing skills, and learned to enjoy and respect our mountain environment.
Over the last several years our club has experienced a growing membership in our Quikies program where these young skiers gain the skills to compete successfully in races and develop a life-long love of the sport of skiing. BAR membership has grown as well and we offer a full continuum of juvenile and junior programs.
The Bow Valley Quikies Ski Club and Banff Alpine Racers continue to represent the Bow Corridor as ambassadors of both tourism and sports excellence. The Bow Valley attracts skiers, both young and old, ready to learn the fundamentals. The Bow Valley also recognizes skiing as one of the Rockies' premier industries. Ski racing success, be it past, present or future, has directly or indirectly benefited the community.